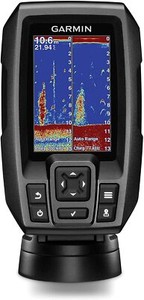 Buy now
ebay.com
User reviews
Discounting the size of the display, the imagery is superb, thanks to Garmin's long time experience with color car GPS devices. I have spent thousands on a GPS plotter-sounder and got no better results than this little Garmin GPS- sounder. Granted ,the display is much smaller than I have used in the past, but for the money, it's outstanding. On top of the brilliant color display, its got GPS, depth, water temp. and system voltage showing while scanning the bottom. The GPS will tell you your boat speed without the need for an external antenna. It'll also show your heading (compass direction) and off course indication. Like I said, A DOLLAR'S VALUE FOR A DOLLAR SPENT!
Finally had a day to spend on the lake with the Striker. I have to say that so far I'm really impressed with this Fish-finder. It's easy to use and in the bright sunlight viewing is a pleasure. Tried it with and without sun glasses and it worked fine. The GPS speed feature is something that I've been wanting for a long time for maintaining accurate trolling speed. There are times when 1 mph. can make huge differences in your catch and the Striker reads down to a tenth of a mph. The only flaw I have found with it is I wish some of the digits were a little larger. The depth reading is fine and I'm adapting to the others. After the first day with the Striker would I recommend this, Yes and am thinking about another for the other boat.
Easy to mount, easy to use. Does everything I need it to do. Bill Dance might not like it, but I'm happy with the overall performance. Hard to find a unit at this price with GPS and the GPS works very well.I actually put a good quality power plug on the end of the power wire and can plug it into the cigar lighter which makes the unit more portable! If I had to change anything it would be the way the plugs fit into the back of the unit. They need to be square or molded in a manner such that they are easier to insert.